Banking
Abidjan is the main financial centre of French West Africa and houses the stock exchange of West Africa (BRVM).
BRVM
Website: www.brvm.org/en
Abidjan is also the corporate headquarter of the African Development Bank and of its regional West Africa operations. Most international financial institutions have their Regional Offices in Abidjan such as the World Bank, the International Monetary Fund as well as bilateral agencies such as the Agence France de Developement and several UN Agencies.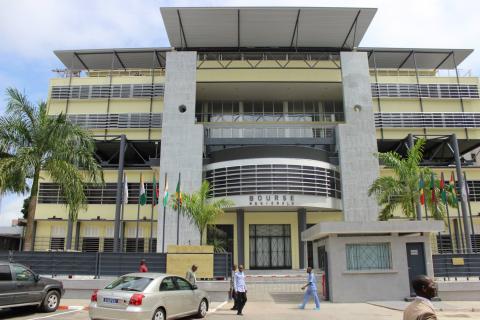 The local currency is the West African CFA franc. It is tied to the Euro at the parity of 1 EUR = 655.957 CFA francs. The acronym CFA stands for Communauté Financière Africaine. The currency International ISO code is XOF.
The CFA is also used in the following countries: Bénin, Burkina Faso, Guinea-Bissau, Mali, Niger, Sénégal, and Togo.
24 Hour ATMs can be found accross Abidjan and only dispense CFA. You can withdraw using your local cards or international credit cards . Credit cards are accepted in hotels, restaurants and in some grcoery stores, however cash remains king across the country. It is recommended to always carry enough cash with you as credit card machines are not reliable and may be out of order. Travellers cheques are accepted only in large banks. Mobile Money is the new trend where you can recharge your account with cash and then debit your account electronically. Some providers of this service include Orange Money, MTN Mobile Money, Celpaid, Flooz and Mobile Banking from Qash services.
Banking hours vary, however standard hours are Monday to Friday: 07.45 - 15.30 and Saturday from 07.45 - 12.00. They also may be closed for a lunch break from 12:30 - 13:30. Check your local branch as timetables may vary.
You can open accounts in both CFA francs and also foreign currency. However, there are always fees associated with currency exchange and swift transfers between banks. To see more about opening and account and the banks throughout Côte d'Ivoire, please click on our link here for Commercial Banking.
Currently most banks are still charging account fees which can range from 15,000 CFA - 100,000 CFA per month depending on the type of account. However, due to growing competition and the ease of opening an account, it is advised to shop around or to negotiate these fees.