Evangelical
Adjamé Assembly, the first Assemblies of God church in Abidjan
4,000 members and has helped launch 45 thriving Abidjan churches.
Yopougon Assembly near Abidjan began through a tent crusade in 1988. Today, 3,000 Ivorien believers worship in a three-story building. It has started a dozen daughter churches, and more are planned.
Assemblies of God heaquarters in Abidjan:
Address: Rue Alexandre Fleming (marcory zone 4c)
Tel: +225 21 35 55 48
General secretary: +225 05 81 91 08 / +225 41 48 28 37 / +225 06 32 93 28
Sunday Service: 7:30 to 11:30 (in French)
Tel: +225 22 43 07 08 / +225 07 22 01 00
Email: info@adcocody.com
Website: http://www.adcocody.com
Facebook: https://www.facebook.com/adcocody
Redeemed Christian Church of God- L'Eglise chrétienne Rachetés de Dieu (RCCG)
Established in 1952, RCCG is a growing church with Parishes of the church in over 150 countries of the world.
The Regional Headquaters: 109 Sicogi villa II Plateaux (not far from SOCOCE)
Sunday Celebration Service: 9H00 to 12H00
Bible Study: Bible study from 18H00 to 19H00
Faith clinic: Thursday from 18H00 to 19H00
Pastor's Tel: + 225 04 75 88 34/ +225 44 33 97 90
Website: https://trccg.org/rccg/
The Christ Apostolic Church (CAC)
Distinctly an indigenous African Church
By its structure, belief and practices, it is an independent Pentecostal Church.
Christ Apostolic Church -
KOUMASSI HQ:
Koumassi Remblais, Bus line 05/11
Senior Pastor: Pastor E.A. Ayanrinde (D/Supt) of Koumassi
District Superintendent: Pastor S.K. Dada
Branches all over Abidjan.
The Lord's chosen (Les élus de Dieu)
Internationally known English church that has branches all over Côte d'Ivoire, with the headquarter in Plateau Dokui (street at the corner of CIE).
Weekly program
Sunday
Sunday service: 8:00 A.M to 12:30
Tuesday
Revival hour and bible study: 6:00 P.M to 7:30 P.M
Wednesday
Delivrance and newcomers counseling: 10:00 A.M to 12:30
Thursday
Couseling and delivrance: 6:00 P.M to 7:30
Friday
Night vigil program: Midnight to 3:00 A.M
National Pastor: Pastor Alexandre EZE
Tel: +225 44 22 40 75 or +225 07 73 02 97
"Temple de la Foi" Cocody Angré,

2 Plateaux ( Pasteur Raoul Wafo)
Address: II plateaux 7eme Tranche
Info line: +225 22 42 41 61/ +225 07 53 25 63
Live broadcast every Sunday at 9:00 GMT
Sunday services:
7:00 - 9:00 *** 9:30 - 11:30 *** 12:00 - 14:00 (service in French but with simultaneous translation in English)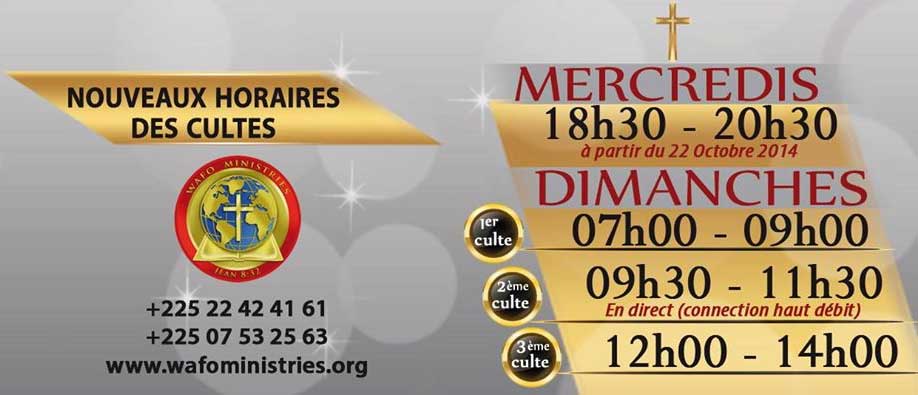 « Eglise vase d'Honneur » -
Address: Cocody II Plateaux
The programs
-Every Sunday: 3 Worship and Teaching Services at 07:00-09:30 / 10:00- 12:30 / 13:00-15:30
-Every Wednesday: 19:00-21:00
-Bilingual service: 13:00 to 15:30
-The Youth's service: 16:16-18:16
-Every Thursday: moment of fellowship with brothers and sisters living in the same neighborhood at 19:00-20:30
Facebook: Vases d'Honneur
Website: www.vasesdhonneur.org
Church of Christ – Cocody 7ème tranche (in a school building)