International Schools in French or Bilingual
As French is the first language in Côte d'Ivoire, most international schools are in French and are part of the network of French education abroad (AEFE) in line with the standards of the French ministry of education. Children are prepared for the French state exams. An accreditation is required to join the network and is not granted on a permanent basis, therefore the schools must regularly undergo an inspection to ensure that they are fully complying with the criteria.

This network can be quite attractive for expatriates as it is standardised and available in about 130 countries.
For more information on the AEFE (Agence pour l'enseignement francais a l'étranger) visit: www.aefe.fr
Some schools still follow the French curriculum but are not accredited, they use the French state distance learning program called CNED.
For more information on the whole French system in Côte d'Ivoire, please check:
www.ambafrance-ci.org/Etablissements-scolaires-335
Please see below a list of all the French accredited (AEFE) or using the CNED program in Abidjan:
Primary and secondary school AEFE accredited
Address: Marcory Résidentiel
Tel: +225 21 75 85 30 / +225 21 75 85 31 / +225 21 75 85 32
Email: courslamartine@hotmail.com
Primary school, accredited by the AEFE
Address: 26, Marcory Zone 4 - Rue Calmette
-Primary
Secretariat: informations@cours-sevigne.org
Director: directrice@cours-sevigne.org
Tel: +225 21 35 74 75
-High school
Secretariat: secretariat.college.sevigne@gmail.com
Tel: +225 21 35 93 40
Principal: principalcollegesevigne@gmail.com
Tel: +225 21 35 87 95
Website: www.cours-sevigne.org
Ecole Internationale Clairefontaine
Address: Deux Plateaux Vallon - Rue J81
Tel: +225 22 41 27 05 / +225 07 07 79 00 / +225 49 19 60 22
Email: infos@clairefontaine.ci
Website: www.clairefontaine.ci
Ecole Jacques Prevert is the primary school section of Lycée Français Blaise Pascal
AEFE accredited
Address: Riviera 3
Tel: +225 22 40 00 60
Email: directeurprevert@lycee-blaisepascal.com / secretariatprevert@lycee-blaisepascal.com
Website: www.lycee-blaisepascal.com
Address: Road of Bingerville (Route Génie 2000)
Tel: +225 22 40 00 99 / +225 02 90 40 02
Email: info@ecolejulesverne-ci.net
Website: www.ecolejulesverne-ci.net
Enko Education is building a Pan-African network of private schools offering affordable,
high-quality education to the continent's rising middle class. EEI's business model is to invest in
and/or operate high-potential, existing private schools and help them achieve their potential.
Enko Education is dedicated to delivering an international curriculum recognized worldwide.
It offers the International Baccalaureat Diploma Program and gives an opportunity to
students entering high school to prepare for admission in the best universities in the world.
In Cote d'Ivoire, there are 2 Enko Schools (program in both French & English).
Please find the details below:
Enko Riviera International School
Address: Cocody, Riviera 3 - Near Lycee Francais Blaise Pascal
Tel: +225 87 14 14 92 / +225 02 20 27 56
Email: contact@enkoeducation.com
Website: www.enkoeducation.com/riviera
Enko John Wesley International School
Address: Cocody Angré-Near Cite GESTOCI
Tel: +225 87 24 24 16 / +225 02 20 27 55
Website: www.enkoeducation.com/johnwesley
Address: Riviera 3 - Road of ''Lycée Blaise Pascal'' school
Tel: +225 22 47 37 12 / +225 59 30 00 30
Email: ecolegds@yahoo.fr
Website: www.graindesoleil.ci
Groupe scolaire les papillons
Address: Deux Plateaux - 7th Tranche - Rue L139
Tel: +225 22 42 50 51 / +225 08 45 10 37 / +225 45 72 67 55
Website: www.gslespapillons.edu.ci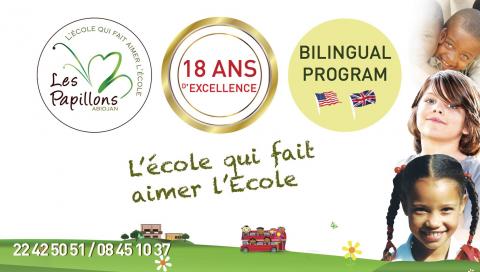 International Bilingual School of Africa (IBSA)
Address: Cocody Deux Plateaux 7ème Tranche
Tel: +225 49 42 08 06
Facebook: IBSA
Website: www.ibsafrica.org/home