Useful contacts
Description: Workspace for businesses large and small, branch or sales offices, agencies and consultancies – Regus has options to suit any budget and any working style.
In Abidjan, Regus has more than 80 first class ready-to-use offices in 2 different centres (Plateau and Marcory), co-working spaces, internet access, 3 fully furnished and equipped meeting and interview rooms, a state of the art videoconferencing studio; expertly supported by multilingual teams of on-site professionals.
Address: 7, Avenue Nogues – Abidjan Plateau
5th Floor, BSCI BROADWAY (BSIC) Building
01 BP 5754 Abidjan 01
Tel: +225 20 31 10 08
Fax: +225 20 31 10 09
Email: Abidjan.lagune@regus.com
The Chamber of Commerce and Industry of Côte d'Ivoire
Description: Its represents the interests of Trade, Industry and Services stakeholders.
Four main objectives underlie its action:
1/ Consulting and representation
2/ Training
3/ Assistance and consulting
4/ Creation and management of general interest services
Tel: +225 20 33 16 00
Email: info@cci.ci
For more information, visit: www.cci.ci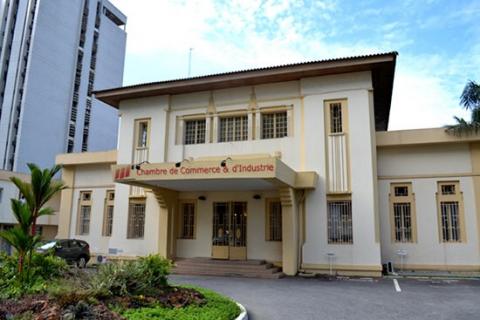 The French Chamber of Commerce (Chambre de Commerce et d'Industrie française en Côte d'Ivoire CCIFCI)
Its takes part in the French business community of more than 700 companies. It provides practical support to French companies in Côte d'Ivoire as well as to those wishing to enter the market and also facilitates relationships between its members.
Address: Boulevard de Marseille - Biétry, 300 m after Wafou, on the way to the airport
18 BP 189 Abidjan 18
Tel: +225 21 25 82 06
Fax: +225 21 24 10 00
Email: ccifc@ccifci.org
Website: www.ccifci.org

The Lebanese Chamber of Commerce (Chambre de Commerce et d'Industries Libanaise en Côte d'Ivoire CCiL CI)
It is an initiative of economic cooperation between the Lebanese business community and Côte d'Ivoire.
Its main purpose is to bring together the Lebanese community to:
- defend the interests of its members through different exchanges and meetings
- develop industrial and financial trade relations between Lebanon and Côte d'Ivoire.
Address: Centre Polygone - Orca Déco 3rd Floor
Tel: +225 21 26 22 12
Email: ccil@aviso.ci
Openning hours Mondays to Fridays : 8:00 - 12:30 / 14:30-18:00
https://www.facebook.com/Chambre-de-Commerce-et-dIndustrie-Libanaise-en-Côte-dIvoire-CCIL-CI-143438225679773/photos_stream?tab=photos_albums