Dance
The fitness clubs in Abidjan also offer dance fitness classes run by professional dancers. The following clubs offer lessons for children and adults. Some of the classes include Zumba, Bokwa, ballet dance...
Salsa, Zumba, Classic, Jazz, Hip Hop, Break Dance
Address: Marcory Bietry Rue des Alizés - opposite College Our Lady of Africa - near security service
Tel: +225 21 34 55 22 / +225 08 38 45 68
Facebook: Les Ribambelles
Website: www.lesribambelles-abidjan.com
Planning here: planning des activites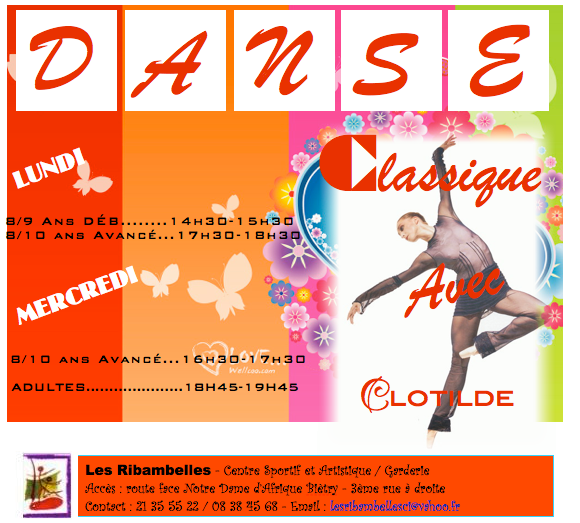 Private music school that welcomes everyone wishing to learn or to perfect themselves in many different artistic disciplines. All people from 4 to 94 years are welcome.
Address: Cocody Riviera II, Cité Allabra, not far from Cap Nord Shopping Center
Tel: +225 22 47 24 11 / +225 45 70 75 80 / +225 07 65 21 15
Facebook: Art Academia Abidjan
Website: www.artacademiaabidjan.com
Address: Boulevard Valerie Giscard d'Estaing - Towards Cap Sud Shopping Center
Tel: +225 48 00 09 39
Facebook: Mamma Mia
Every Wednesday: 09:00-11:30
Address: Riviera 3 - Road of Lycée Blaise Pascal
Tel: +225 22 47 37 12 / +225 59 30 00 30
Facebook: Grain de Soleil
Dance classes every Tuesday, Wednesday, Friday afternoons & Saturday
Address: Marcory Zone 4 - Rue des pêcheurs
01 BP 8538 ABIDJAN 01
Tel: + 225 21 35 67 64
Facebook: Le Calao