Getting Around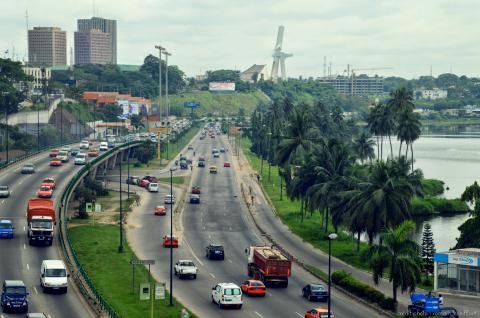 Abidjan is large and quite spread out which makes it difficult to move around on foot except within your own neighborhood. The majority of the roads are in good condition, however, there are a few exceptions especially during the wet season. The city is known for traffic and congestion, mainly in the morning and peak hours in the evenings.
In recent years, in an effort to ease congestion in Abidjan, the Ivorian government has invested a lot in infrastructure. Some of the latest developments include a newly built asphalt freeway connecting M'Badon to Abidjan, an opening of an overpass linking one of the bridges to the highway, as well as many other roads and overpasses.
One of the latest achievement is the third bridge over the Ebrié Lagoon, the Henri Konan Bedié Bridge (HKB), which is worthy of most modern mega cities. The (HKB) Bridge was officially inaugurated on the 16/12/2014 to free up congestion on its two predecessors - the Houphouët Boigny Bridge (built in the 1950s) and the Charles de Gaulle Bridge (from the late 1960s). Most importantly, the new bridge saves time as drivers do not have to go around the lagoon and can now pass over it more directly on the east side. Both a bridge and a highway, this new expressway links the north and south of Abidjan, bringing the districts of Riviera and Marcory closer together.
The third bridge also introduced a toll payment system with prices vary between 500 CFA and 3000 CFA per trip. Here are the 3 methods of payment:
The most common method is to pay cash at the toll booths - 500 CFA for standard passenger cars. It is recommended to give exact change or at least small bills to pay with cash.
You can purchase a PASS (BADGE) for at least 5000 CFA and you will be given a sticker to put on the back of your car. In this case you will go via the toll booths with the "t" sign on. To renew this pass, you need to go the the HKB sales office. It should be noted that there is no discount to have this PASS, it is simply for convenience.
The last option is to buy a ticket from MTN mobile money or Flooz (Moov service) and dial 1355# when you reach the gate.
DRIVING IN ABIDJAN
As highlighted above, Côte d'Ivoire has a relatively developed infrastructure when compared with other West African countries with an 82,000 km roadway system. But be advised that road regulations are barely respected and serious accidents are frequent. Many expats own cars and drive in Abidjan for convenience, but it is extremely important to be very cautious and drive defensively. An International Driving Licence is required. You can find more information here at our section on Driving Licence, Information, & Schools.
TAXIS
Taxis are plentiful and relatively inexpensive in Abidjan, however they are often kept in poor condition. There is a meter system installed in some of the taxis, but they are not used. Instead, the price for the ride is negotiated and agreed upon prior to getting into the taxi. It is rare that a taxi driver will speak English so it is beneficial to have your destination mapped out on your phone or at least be able to say the destination in French. We welcome you to read more about Taxis and other private car companies at our section Taxi Services.
OTHER PUBLIC TRANSPORTATION
Ferry service exists across the lagoon - you can find more information here --> Boats & Motorcycles
Sotra, a public transport company in Abidjan is investing in a new fleet of buses and boats to service different routes in different suburbs. In 2017, it has acquired 500 new buses. The high tech buses, the WIBUS from Sotra, Abidjan's WiFi-equipped buses are now operational in Cocody.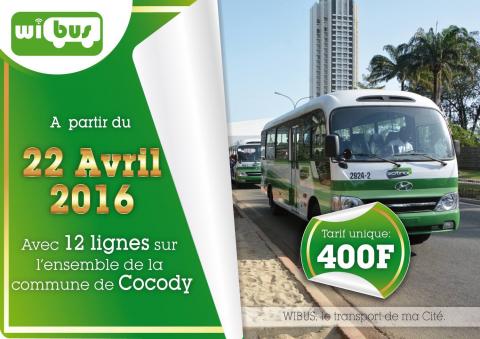 METRO SYSTEM
The Abidjan Metro, a 37.5-kilometer (23-mile) light rail network serving the Ivorian city of Abidjan, will connect the town of Ayama North to Port-Bouet in Southern Abidjan in 50 minutes stopping at 20 stations. The construction began in November of 2017, with the beginning of passenger service anticipated in 2022. The transport capacity for passengers is 500,000 per day.
A consortium of French groups was selected to carry out the works: Bouygues Travaux Publics for civil engineering, Colas Rail for tracks and systems, Alstom for trains and signaling and Keolis (a subsidiary of SNCF) for the operation and maintenance. Additional studies are being finalized.
(Stage 1 stations)
Anyama

Abobo

Adjamé

Plateau

Treichville

Marcory

Koumassi

Port-Bouet

Félix Houphouët-Boigny International Airport
In order to further curb the traffic congestion in Abidjan, there are plans to construct a second metro line as well as a fourth bridge in the coming years.